Fact: 99.9 percent of hitters step up to the plate with the goal of getting a hit without really understanding what it takes to do it. Seriously.
So, let me break it down for you. In order for a Major League player to get a hit 30 percent of the time, he must: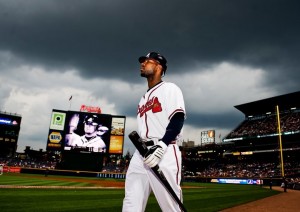 You must have your hands triggered back between your back shoulder and back ear, with a short aligned stride that goes the length of the bat; your weight must remain on your backside in order to be in a good loaded position. Being in a good loaded position – on time – allows you to track the pitch and determine if it's a ball or strike, fast or slow, inside or outside, etc. Having good approach allows you to hit the ball where it's pitched, with inside pitches being driving to the pull side gap, and outside pitches being drivin to the opposite field gap.
No. 2 – Repeat a short approach 70 percent of the time
Your approach is initiated by your bottom hand keeping the barrel above the strike zone on the inner half of the baseball. Your backside foot must rotate with your hands, while your front foot remains closed during the approach.
No. 3 – Make hard contact 50 percent of the time
At the point of contact, your top hand should be palm up, with your bottom hand palm down. Your front foot should remain closed at the point of contact. This position allows you to finish your swing with good extension and high.
Getting into a good load position to track the pitch 90 percent of the time allows you to repeat a good approach 70 percent of the time in order to make hard contact 50 percent of the time. This will result in you getting a hit 30 percent of time.
The truth is getting a hit is more than wishful thinking, so set your fall hitting goals based on the percentages above.
Remember: Good hitters don't work hard; they work smart.
For more information, visit www.diamonddirectors.com today.
BIO:
C.J. Stewart has built a reputation as one of the leading professional hitting instructors in the country. He is a former professional baseball player in the Chicago Cubs organization and has also served as an area scout for the Cincinnati Reds. As founder and CEO of Diamond Directors Player Development, CJ has more than 12 years of player development experience and has built an impressive list of clients, including some of the top young prospects in baseball today. If your desire is to change your game for the better, C.J Stewart has a proven system of development and track record of success that can work for you.