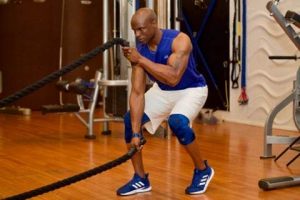 Brandon Butler is an amazing performance coach—one who gets people from one place to another. Performance is all about how you compete while under stress. I have known Brandon for several years, where he has coached both of my daughters, who are competitive tennis players.
I recently asked him to share his Top 6 stretches and drills, which are designed to help reduce injury and improve performance.
The main points of the video are:
Flexibility without mobility could lead to injury and poor performance just as much as lack of flexibility.
Hip mobility should be one of the main focal points for every young athlete. Whether lateral or linear speed, the mobility of your hips is imperative.
The key to improving as an athlete is to find something simple that works and be extremely consistent in improving and mastering it.
The Top 3 reasons young athletes should listen to Coach Brandon are:
He has 15 years of experience working with high level young athletes.
He has studied and trained with some of the top sports conditioning coaches in the country.
He was once a young athlete who work tirelessly on developing his skills and earned the opportunity to become a QB/WR at Mississippi State University.
To help keep your skill sharp, we have introduced a new type of Skill Build—our Virtual Skill Build, where I can help you develop hitting skills anytime, anywhere using anything. Check it out.
Remember: Intelligence tops being smart.
For more information, visit www.diamonddirectors.com today. Also, check out our Digital Magazine.
---
For more information, contact Coach Brandon Butler:
Instagram @trustfitnessptllc
trustfitness@gmail.com
678-860-1634