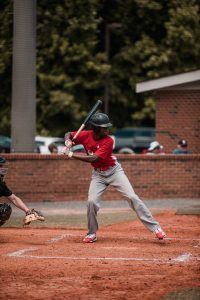 Fall ball (August-October) is one of my favorite development times for hitters because we focus on trying new things to determine what works and what doesn't.
November-January is the phase of development where we commit to building habits based on what works.
Your final act of the fall should be a test of your athleticism. And when all else fails, you should make an adjustment, which should not be confused with fixing what you did wrong. Making an adjustment means doing something different than what you did wrong. When you make adjustments, you'll find success.
Being athletic is about your ability to critically think at a high level in order to physically achieve a goal.
Have you ever hit with a toe tap, bat wrap, high leg or hand drop load? Can you be successful doing either one of those? If you're athletic, you'll figure out a way to make it happen.
Measure your athleticism by using a tee and hitting a target 50-feet away with baseball 5 out of 10 times. Here are some drills you can use:
To help keep your skills sharp, we have introduced a new type of Skill Build—our Virtual Skill Build, where I can help you develop hitting skills anytime, anywhere using anything. Check it out.
Remember: Intelligence tops being smart.
For more information, visit www.diamonddirectors.com today. Also, check out our Digital Magazine.
---
C.J. Stewart has built a reputation as one of the leading professional hitting instructors in the country. He is a former professional baseball player in the Chicago Cubs organization and has also served as an associate scout for the Cincinnati Reds. As founder and CEO of Diamond Directors Player Development, C.J. has more than 22 years of player development experience and has built an impressive list of clients, including some of the top young prospects in baseball today. If your desire is to change your game for the better, C.J. Stewart has a proven system of development and a track record of success that can work for you.