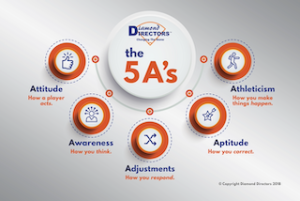 2021 is coming to a close. Are you ready for 2022? What does being ready look like? Feel like? For me, I want to have a more humble and empathic spirit. I want to possess and be aware of when I am losing it so that I can get back on track.
Being on the right track has a positive impact in my household, which includes my wife, Kelli, and my daughters, Mackenzi (20), and Mackenna (14). I also have to be on the right track for my additional family members, friends, staff, colleagues, those I mentor and those who graciously mentor me.
Over these final five weeks of 2021, I will share the Five A's, which I remain committed to using a construct to develop my hitters.
Attitude — How A Player Acts
Awareness — How You Think
Adjustments — How You Respond
Aptitude — How You Correct
Athleticism — How You Make Things Happen
Over the years, I have developed an overly aggressive persona that triggers others to also be overly aggressive. This has to change because it causes me to act out of character in a negative way. I feel exhausted being the tough guy.
I was raised in a culture of being tough and stern. While I prefer to be laid back and chill, oftentimes I felt like I was being taken advantage of when I acted that way.
I no longer want to be a tough guy caricature.
In 2022, I'm focused on figuring out my real personality with the help of others. This is because hurting people hurts people. It also is when we are weak that we need help the most.
Describe your personality:
What triggers you to act out of character negatively?
What adults in your life best model the character that you aspire to have?
To help keep your skills sharp, we have introduced a new type of Skill Build—our Virtual Skill Build—where I can help you develop hitting skills anytime, anywhere using anything.
Remember: Intelligence tops being smart.
For more information, visit www.diamonddirectors.com today. Also, check out our Digital Magazine.
C.J. Stewart has built a reputation as one of the leading professional hitting instructors in the country. He is a former professional baseball player in the Chicago Cubs organization and has also served as an associate scout for the Cincinnati Reds. As founder and CEO of Diamond Directors Player Development, C.J. has more than 22 years of player development experience and has built an impressive list of clients, including some of the top young prospects in baseball today. If your desire is to change your game for the better, C.J. Stewart has a proven system of development and a track record of success that can work for you.