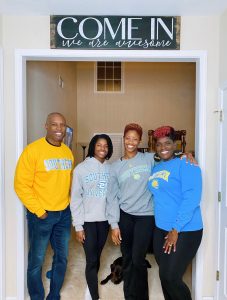 It's 2021. Consider yourself blessed to see a new year. In every new year, it is important to ask yourself if there is a need to become a new version of you?
Who are you? Remove the accolades and wins as a coach, a baseball player or parent of a baseball player. Oftentimes, people in general, me specifically, like to hide behind the accomplishments shielding people from the hurt and pain that we may have experienced. Things like being bullied as a child because you were not the fastest on the field and/or quickest to learn things in the classroom.
Because I failed to put up Hall of Fame numbers in the Major Leagues like I dreamed of as a kid, I took out that frustration on my Travel baseball players as a coach. I cussed and fussed at them, hoping they could do what I could not. My hope was that they could take me where I wanted to go.
That's my truth, what's yours? As we start to move head long into this new year, I want you to ask yourself the following five questions:
Who are you today?
Who are you trying to become?
What's causing the setbacks in your life as you strive to become the best version of yourself?
What's the cost in time, energy and money?
Who are the top three people in your life that hold you accountable for becoming the best version of yourself?
To help keep your skills sharp, we have introduced a new type of Skill Build—our Virtual Skill Build, where I can help you develop hitting skills anytime, anywhere using anything. Check it out.
Remember: Intelligence tops being smart.
For more information, visit www.diamonddirectors.com today. Also, check out our Digital Magazine.
---
C.J. Stewart has built a reputation as one of the leading professional hitting instructors in the country. He is a former professional baseball player in the Chicago Cubs organization and has also served as an associate scout for the Cincinnati Reds. As founder and CEO of Diamond Directors Player Development, C.J. has more than 22 years of player development experience and has built an impressive list of clients, including some of the top young prospects in baseball today. If your desire is to change your game for the better, C.J. Stewart has a proven system of development and a track record of success that can work for you.