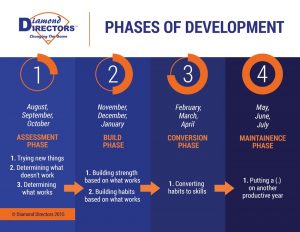 A lot of people want everything now, free and easy. Consider the process of making a bat. The tree must be cut down and cut up to make the bat. The cutting process isn't an easy task. But it's a worthwhile task when the bat maker is producing and selling the bats.
You can't become a success without stress and your training must be tougher than the test (games). Here's why:
Practicing vs. Training
Practice is made up of four things. Those four techniques must be:
1. Systematic — What all are we doing?
2. Sequential — Are we doing it in the right order?
3. Simple — Is it easy to do?
Training requires the three aforementioned and must include specificity.
4. Specific — Do I need it to win?
For the amateur players, games in the Conversion Phase (February-April) are preparing you for the Maintenance Phase (May-July), when your competition moves from local to national and international.
Your training must be tougher than the test in order to become the best. Practice your swing approach using a Tanner Tee. Train by trying to hit a quarter taped on a wall 50 feet away 30% of the time.
Here are the Top 3 things that can happen to amateur hitters when the training is tougher than the test (games).
Complain
Blame
Quit
Complaints that the drills are too hard.
Blaming the coach for not preparing you for the test (games).
Quitting gets easier the more that you do it.
Remember: Intelligence tops being smart.
For more information, visit www.diamonddirectors.com today. Also, check out our Digital Magazine.
---
C.J. Stewart has built a reputation as one of the leading professional hitting instructors in the country. He is a former professional baseball player in the Chicago Cubs organization and has also served as an area scout for the Cincinnati Reds. As founder and CEO of Diamond Directors Player Development, C.J. has more than 12 years of player development experience and has built an impressive list of clients, including some of the top young prospects in baseball today. If your desire is to change your game for the better, C.J. Stewart has a proven system of development and track record of success that can work for you.