Spring is coming. As it approaches, there are four questions you need to ask your coach right now:
What is my specific role as a hitter on this team?
What are your specific statistical expectations of me this spring?
Did we do enough this winter for me to be prepared to meet your statistical expectations?
If I'm not meeting your expectations, how will you help me?
The Good News
If you don't ask your coach these questions, the good news is that you can blame your coach for your bad season.
The Bad News
If you don't ask your coach these questions, the bad news is that your coach may blame you for your bad season.
Defining a Hitter's Role
There are several types of hitters. At the end of the game, the winning team is the one that scored the most runs. Which type of hitter(s) contributed to the win? Here's a look at the styles:
Slap hitter
Contact hitter
Line drive hitter
Gap power hitter
Home run hitter
Expected stats
There are seven parts to the swing (below). It takes 3,000 reps to build a habit. That's 21,000 reps.
Stance/Load
Timing
Tempo
Tracking
Approach
Contact
Extension/Finish
Study this chart to understand how to have a .400 batting average against elite pitching. Remember: Hope is a gift, but turning hope into reality is a journey.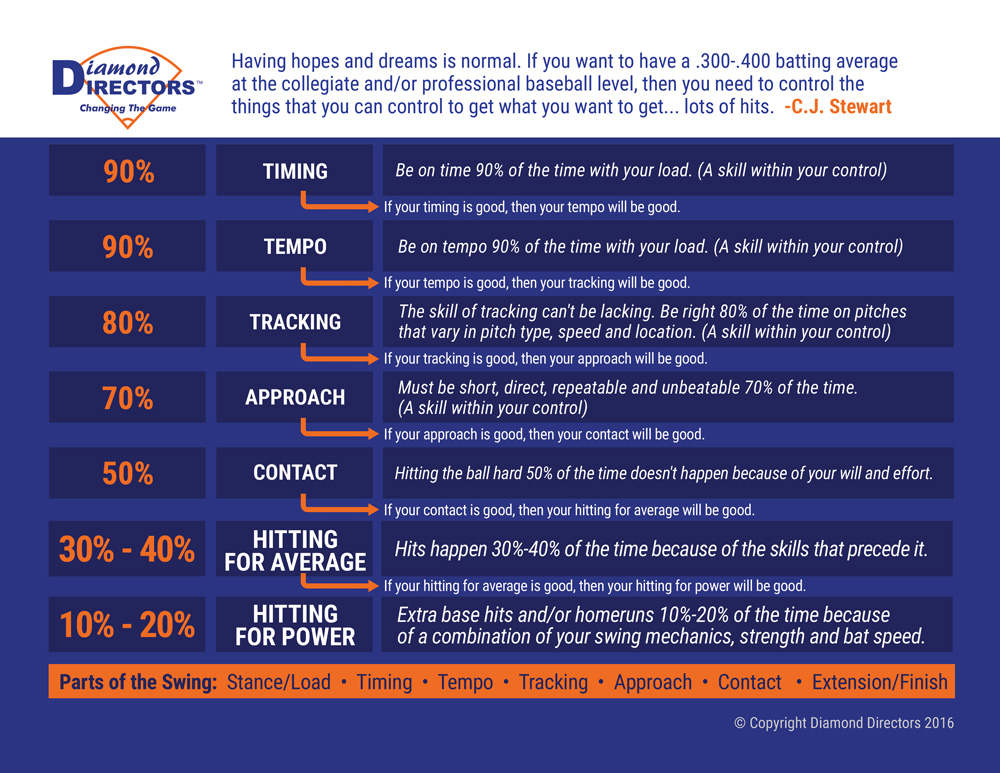 Schedule the time now to ask your coach those "four focused" questions.
Remember: Intelligence tops being smart.
For more information, visit www.diamonddirectors.com today. Also, check out our Digital Magazine.
C.J. Stewart has built a reputation as one of the leading professional hitting instructors in the country. He is a former professional baseball player in the Chicago Cubs organization and has also served as an area scout for the Cincinnati Reds. As founder and CEO of Diamond Directors Player Development, C.J. has more than 12 years of player development experience and has built an impressive list of clients, including some of the top young prospects in baseball today. If your desire is to change your game for the better, C.J. Stewart has a proven system of development and track record of success that can work for you.