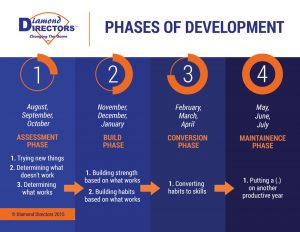 I have talked a lot in my blogs about the importance of understanding the essential times in building your hitting acumen. As a reminder, they are as follows:
August-October (Assessment)
November-January (Build)
February-April (Convert)
May-July (Maintenance)
In order to maintain something, you must first build it. There are seven parts to the swing and it takes 3,000 reps per part to build a habit. It takes another 3,000 reps, per seven parts, to convert the habit to a skill.
It's May, so it's time to maintain what you have:
Stance/Load x 3,000 reps
Timing x 3,000 reps
Tempo x 3,000 reps
Tracking x 3,000 reps
Approach x 3,000 reps
Contact x 3,000 reps
Extension/Finish x 3,000 reps
Which of these seven parts of the swing do you feel are the most important to build and turn into a habit, and then convert to a skill?
For me, timing, tempo and tracking are the three most important. So, if you don't feel like you have a habit or skill in either, let me challenge you with these "Skill Build Drills," which you can starting maintaining it this summer:
Build Habits
Timing x 3,000 reps
Shuffle Drill x 3,000 reps
Track Attack x 3,000 reps
Convert to Skill
Tennis Ball Drill x 3,000 reps
Do the math from what I have laid out above. That's 21,000 reps to build a habit, and another 21,000 reps to convert a habit to a skill.
It requires building a solid work ethic to be the best. Being lucky also is an option.
Remember: Intelligence trumps being smart.
For more information, visit www.diamonddirectors.com today. Also, check out our Digital Magazine.
____________________________________________________________________________
C.J. Stewart has built a reputation as one of the leading professional hitting instructors in the country. He is a former professional baseball player in the Chicago Cubs organization and has also served as an area scout for the Cincinnati Reds. As founder and CEO of Diamond Directors Player Development, CJ has more than 12 years of player development experience and has built an impressive list of clients, including some of the top young prospects in baseball today. If your desire is to change your game for the better, C.J. Stewart has a proven system of development and track record of success that can work for you.