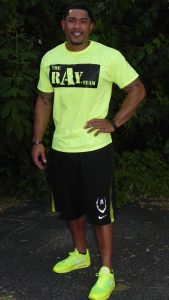 I recently asked A UBBC trainer, and speed and agility coach Ray Stith to give me three things every baseball player needs to do to get stronger this winter in preparation for the spring 2020 season. Here's what Ray shared:
Build a strong and powerful lower half
Baseball players' hips and legs are their power generators. Without a powerful lower half, they will not meet their maximum potential. It is like building a house on sand. The house will eventually crumble because it has no foundation. A strong foundation is mandatory to excel. There are no weak athletes who are fast or powerful. Take a look at the best power hitters and pitchers in the MLB today and you will see legs like tree trunks.
To build a strong and powerful lower half, start with being able to control your body weight and then add external resistance. Calisthenics are great to start out with, using body weight for resistance. I recommend younger players to begin with stationary squats, squat jumps, step ups, lunges (forward and lateral) and rotational ball throws.
Example:
Youth:
3 x 20 stationary squats
3 x 20 squat jumps
3, 20-yard walking lunges
3 x15 step ups (each leg)
3, 10-yard lateral lunges
Teens/Adults:
3 x 20 leg extensions
3 x 20 leg press at 65% max
3 x 10 squats at 70% max
Lying leg curls 3 x12 65% max
3, 20-yard weighted walking lunges
3 x 12 weighted step ups
Plyometrics: 3 x 20 box jumps
Create a stable and active core
The core is very important in swinging, throwing, running and jumping. Core strength is essential to perform at your max and stay healthy. A strong core will help stabilize and brace the spine for explosive swings and throws. When you swing and throw, power is initiated in your hips and thighs, and transferred by the core to your upper body, arms and hands, where it is applied to the ball.
If your core is weak, your ability to hit with power and throw hard will be limited. The core is important in all aspects of the game. A strong core will also let you transfer forces generated in the legs throughout the body when running bases and tracking down a fly ball. All athletic movements in baseball involve both the lower body and the core.
To develop strong core stabilizer muscles focus on front and side planks, bicycles, full crunch, isolated side crunches, and side hanging knee raises. These core exercises will strengthen the obliques as well as the upper, lower, and mid abdominals.
Example:
3 x 20 bicycles
3 x 20 full crunch
3 x15 isolated side crunches
3 x15 side hanging knee raises
3 x 15 modified with ups
3x, 1-minute front plank
3 x 20 side planks and bird dogs
Perform power movements
Most power movements exercises should be performed in the sagittal plane (power cleans, deadlifts, and squat press). I recommend to focus more on medicine ball exercises and lateral movements. Use the sagittal plane exercises to help build a solid foundation of strength, and then incorporate exercises designed to build power and explosiveness in the transverse (rotation) and frontal plane (moving lateral) to maximize performance on the field.
Medicine ball exercises from the knees, one knee, lunge and standing position to improve transverse plane movements. Lateral movements, lateral jumps, landing exercises, and twist and throws to improve frontal plane movements. Box jumps, lateral hops, single leg and both feet (plyometrics)
Example:
Low side throws — 3 x10 with medicine ball
High side throws — 3 x 10 with medicine ball
Squat throws — 3 x10 with medicine ball
Alternating slam — 3 x 20 with medicine ball
Backward throws — 3 x 10 with medicine ball
Power clean — 3 x 6, 65% max
Deadlifts — 3 x 6, 65% max
Squat press — 3 x10 60% max
For more information, you can reach Ray at teamray007@gmail.com or 404-447-0876. Follow him on Instagram @TheRayTeamAtl
Diamond Directors has been providing the blueprint of success for diamond sports athletes since 1998. Let us assess your swing in our next Hitting Combine.
Remember: Intelligence tops being smart.
For more information, visit www.diamonddirectors.com today. Also, check out our Digital Magazine.
---
C.J. Stewart has built a reputation as one of the leading professional hitting instructors in the country. He is a former professional baseball player in the Chicago Cubs organization and has also served as an area scout for the Cincinnati Reds. As founder and CEO of Diamond Directors Player Development, C.J. has more than 12 years of player development experience and has built an impressive list of clients, including some of the top young prospects in baseball today. If your desire is to change your game for the better, C.J. Stewart has a proven system of development and track record of success that can work for you.