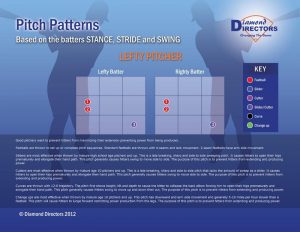 The top three things that pitchers are taught to exploit when competing against hitters is their stance, stride and swing, in that order.
Below is a breakdown of what they are trying to do and how you win the battle:
Stance
The batting stance is under coached. It doesn't require a lot of focused practice time, but hitters need to know that good pitchers are watching how they stand in the batter's box to determine what pitch to throw.
Before I go deeper, let me bring to your attention that there is a difference between a pitcher and a thrower. A pitcher has command of a pitch type as well as an understanding of when to throw it.
When I coached my 10U East Cobb Seminoles team in the early 2000s, I had to signal the right pitches for my pitchers to throw based on what I saw from the hitter's stance.
One of those players was Kent Emanuel, who later went on to pitch for the University of North Carolina Tar Heels and currently is a AAA pitcher in the Houston Astros' organization.
Stride
The stride of the hitter is watched very closely by a catcher who is aware.
Striding toward the plate and "too wide" screams bust me inside with something hard.
Striding too late invites off speed pitches
Striding out shouts get me out with a change up away
Swing
The swing in general consists of seven parts. For the sake of teaching in this section, I'm specifically referring to the approach part:
Stance/Load
Timing
Tempo
Tracking
Approach
Contact
Extension/Finish
As a hitter, you could have a good stance and stride, but a swing that's too long or too late will cause you to struggle.
Study these videos so that you're prepared to compete against pitchers who try to exploit your stance, stride and swing.
Diamond Directors: Skill Build Drill: Stance
Diamond Directors: Skill Build Drill | Wall Drill Knob
Remember: Intelligence tops being smart.
For more information, visit www.diamonddirectors.com today. Also, check out our Digital Magazine.
---
C.J. Stewart has built a reputation as one of the leading professional hitting instructors in the country. He is a former professional baseball player in the Chicago Cubs organization and has also served as an area scout for the Cincinnati Reds. As founder and CEO of Diamond Directors Player Development, C.J. has more than 12 years of player development experience and has built an impressive list of clients, including some of the top young prospects in baseball today. If your desire is to change your game for the better, C.J. Stewart has a proven system of development and track record of success that can work for you.