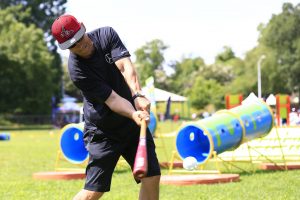 There are three signs that your fall baseball season wasn't an epic fail:
No. 1 – If your coach tells the truth about playing time
I believe that it's irresponsible for players to be silent about how much playing time they'd like to get in the fall. Being silent often leads to disappointment, strained relationships and a waste of time.
I understand that it's not easy to start a conversation with a coach about playing time. I also understand it's a lot easier to do this before the fall season starts, rather than during the middle or end of the season when you've reached a high level of frustration.
Here are three simple questions you can ask your coach before the start of the fall season:
Coach, why did you select me to play on your team?
What do believe is my full potential as a baseball player?
What's the minimum amount of at bats you can guarantee I will receive this fall, regardless of the outcomes?
No. 2 – If your coach didn't verbally abuse you
I've been coaching for 19 years and, regretfully, I verbally abused hitters in my earlier days of coaching. Why? Because hurting people hurt people. I was struggling with the fact that I hadn't reached my full potential as a baseball player, coupled with the reality that I didn't have a substantive methodology for coaching.
Many times, we as coaches don't know what to say, so we yell. We also struggle with how to say the right things, so we hid.
Games are a test. Games often create the most stress and they should only be a test. They are a test of the things worked on as a team at practice and individually at home. There doesn't need to be any "in coaching" during a game.
Ask your coach how he feels about this before the start of fall games.
No. 3 – If you were allowed to use games to test what you're working on at home and at practice
As coaches, we often feel the stress of winning and hide behind it by saying, "We want what's best for the kids." That sounds good.
Before the word coach was used in sports, it was only used as a means of transportation. Therefore, an effective coach took people from one place to another. Ask:
What are the top 10 things I need to learn about hitting?
How much time do I have this fall to learn these top 10 things?
How many reps does it take to build a habit?
The bottom line is that there isn't enough time in a fall baseball season to help hitters reach their full potential. In addition, you have to learn how to practice, then learn how to play before you can be expected to perform.
Learn how to practice
Learn how to play
Learn how to perform
Games are a test of the things that you're learning in practice and at home.
Before the start of your fall baseball season, if you can get your coach to tell you the truth about playing time, agree to not verbally abuse you and allow your games to be a test rather than stress, your fall would be a success.
Remember: Intelligence tops being smart.
For more information, visit www.diamonddirectors.com today. Also, check out our Digital Magazine.
___________________________________________________________________________
C.J. Stewart has built a reputation as one of the leading professional hitting instructors in the country. He is a former professional baseball player in the Chicago Cubs organization and has also served as an area scout for the Cincinnati Reds. As founder and CEO of Diamond Directors Player Development, CJ has more than 12 years of player development experience and has built an impressive list of clients, including some of the top young prospects in baseball today. If your desire is to change your game for the better, C.J. Stewart has a proven system of development and track record of success that can work for you.