Are today's coaches capable of getting their players to their final destination? It's a question worth asking for serious baseball players (and their parents).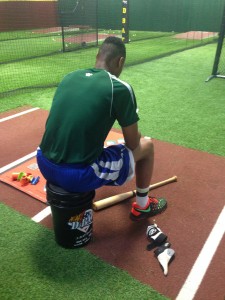 Since we are in the heart of fall baseball, your mindset should be assessment. It's the same mindset your coach should have.
Diamond Directors' clients Josh Hiatt from North Carolina and Will Benson, The Westminster School in Georgia, know what it takes to succeed at the plate. That's why they work on hitting every chance they get.
If your hitting coach is serious about getting you to your final destination (whatever that end goal is), here are three things he should be verbally reinforcing this fall:
No. 1 – Adjustments
Adjustments are more important than results, because if you aren't messing up, you aren't challenging yourself enough. The fall is all about assessment. You have to find out what you can and can't do, because when fall is over, you'll be building habits November-January.
Stretch yourself in October
Try hitting without a stride to simplify the timing process
Try loading with a leg kick to create momentum with your body that can be converted to increased bat speed
Try moving closer to the plate forcing you to be more aggressive on pitches
No. 2 – Attitude
Attitude can drive your success, but also can destroy it. Players spend over 90 percent of their time improving their swing by hitting baseballs, but ignore the need to have a great attitude that supports those swings. Ironically, 90 percent of baseball is mental. Ask your coach, parents and teammates to rate your attitude on a scale of 1-5:
– bad attitude

Diamond Directors' client Will Benson, who plays at North Carolina, also loves to spend time at the Diamond Directors' Hitting Lab at D-BAT Atlanta.

– below average attitude

– average attitude
– good attitude
– great attitudeNo. 3 – Action
Action steps in the fall leads to building good habits in the winter. Lock in on your timing, tempo and your ability to track pitches. Timing is when you get loaded. Are you too early, too late or on time? Tempo is how you get loaded. Are you too fast, too slow or just right. Tracking means you can determine what the pitch is and where it will cross the plate. Tracking occurs best when you are loaded on time with good tempo. Major League hitters get loaded on time with good tempo 90 percent of the time. They also successfully track pitches 80 percent of the time. How about you?
Is your hitting coach transporting you to your final destination?
Remember: Good hitters don't work hard; they work smart.
For more information, visit www.diamonddirectors.com today.
BIO
C.J. Stewart has built a reputation as one of the leading professional hitting instructors in the country. He is a former professional baseball player in the Chicago Cubs organization and has also served as an area scout for the Cincinnati Reds. As founder and CEO of Diamond Directors Player Development, CJ has more than 12 years of player development experience and has built an impressive list of clients, including some of the top young prospects in baseball today. If your desire is to change your game for the better, C.J Stewart has a proven system of development and track record of success that can work for you.