Most kids get that loving feeling for the game of baseball the same way – they watch it on TV, and then grab a bat and hit everything in sight. I remember getting into so much trouble as a kid hitting rocks and busting out windows of houses.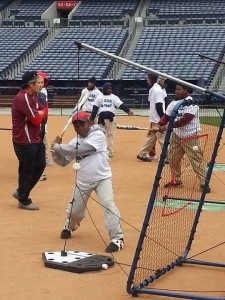 Most of us, myself included, remain driven by those childhood impulses and want to take baseball to the highest level – the Major Leagues. Is that you? Do you make the necessary sacrifices to compete at the highest level? You can answer that through words or action – the choice is up to you.
Every sacrifice you make for baseball today is a means to an end. If you want to play baseball at the collegiate or professional level, here are three things you should be doing now to prepare for a successful spring:
Get assessed
If you don't know what college and pro scouts are looking for, you're just shooting in the dark. You'll need more than luck. Parents everywhere spend tons of money to help their kids aspire to reach their full potential. I'd argue that you should spend your time and money on getting a thorough assessment for your child by someone with a professional scouting background. And yes, that means that your 6 year old, too. Last time I checked, Derek Jeter and Ken Griffey, Jr., were 6 years old once. With a quality assessment, your child can develop properly on his own. Wouldn't it be great to work on the right things at the right time focused on the right goal? Click here to make an appointment for me to assess you child online or in the cages. Experience counts and results matter.
Gain access
Find an instructor with a vast network of college coaches and professional scouts. This is important. He will put your child in the right place at the right time to showcase the skills he's developing. Instructors should prove their ability to help you reach your full potential with a documented-proven process and testimonials from successful students. My methodology is called AT-BATS. Ask your instructor how he plans to help your child reach his full potential.
Manage success
After you've been assessed professionally and have gained access to a network that allows you to showcase your skills, it's important to manage your child's future success by answering two important questions: What is your child doing and why is he doing it? Answering these questions can save you a lot of time and money because there must be a tangible benefit to traveling across the United States to play in all of these tournaments. Your child must really love baseball to travel on a charter bus every week to play in the minor leagues. Here are a more questions you can ask your young player:
What is your long-term goal for baseball?
What is your personal mission in life?
What is your team's mission?
Why do you play baseball?
Why did your coach offer you the opportunity to be on this team?
Why did you accept the opportunity to be on this team?
Remember: Good hitters don't work hard; they work smart.
For more information, visit www.diamonddirectors.com today.
BIO:
C.J. Stewart has built a reputation as one of the leading professional hitting instructors in the country. He is a former professional baseball player in the Chicago Cubs organization and has also served as an area scout for the Cincinnati Reds. As founder and CEO of Diamond Directors Player Development, CJ has more than 12 years of player development experience and has built an impressive list of clients, including some of the top young prospects in baseball today. If your desire is to change your game for the better, C.J Stewart has a proven system of development and track record of success that can work for you.