All hitters want to get hits – and lots of them. Hits are the standard by which all hitters determine their value.
And while I agree that hits are the desired outcome, I also realize that getting a hit occurs before you move your bat to the ball.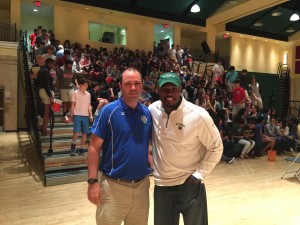 If you are committed to becoming an elite hitter, there are three things you should be thinking about in the on deck circle.
No. 1 – Am I prepared to compete?
Playing and competing aren't the same. Anyone that steps on the baseball field during the game is technically playing baseball. To compete requires you to be equal in skill with your opponent.
As a hitter, you are competing with the pitcher. Major League pitchers can repeat their delivery 70 percent of the time, while Major League hitters can repeat their swing 70 percent of the time. Now that's competition. Minor League hitters can repeat their swing 60 percent of the time; college hitters around 50 percent, and high school hitters around 40 percent.
So, now you understand why high school school hitters can't compete with Major League pitchers regardless of their bat speed, raw power and an Evoshield wrist guard.
How often can you repeat your swing per 100 swings?
A great indication that you are repeating your swing is you hitting the ball where you want to when you want to.
If you are able to compete at the plate, you will get a lot of hits.
Check out our Diamond Directors' "Tip of the Week" – The Drill Shuffle Drill
No. 2 – When do I need to get ready?
Every pitcher can be categorized as having an above average, average or below average fastball. While on deck, all you have to do is observe his fastball velocity and determine when to get loaded.
Remember, it takes 3,000 reps to develop a habit. So your load and timing will become a habit after you have done it 3,000 times apiece. The winter is a great time to build habits. The spring is the time to convert habits to skills.
Elite hitters look for the fastball and adjust to the breaking balls and off speed. If you are loaded on time 90 percent of the time, you will get lots of hits.
No. 3 – What pitch does he throw that I have never seen before?
If you're an amateur hitter, you will face pitchers with a good fastball and maybe a good changeup. They may or may not be able to command the pitches. If they throw a pitch that spins, it should be called a spinner. If the pitch has height, tilt and depth, it's a curve ball.
All collegiate and professional pitchers have those three pitches. Some also feature sliders, cutters, fork balls, splits, etc.
Here's the deal – no matter what the pitcher throws, it must be a strike. If you have a repeatable swing, you are going to get hits.
Step up to the plate with confidence if, and only if, you are prepared to compete, knowing when to get ready without worrying about what pitch may be thrown.
Remember: Good hitters don't work hard; they work smart.
For more information, visit www.diamonddirectors.com today. Also, please check out our eMagazine.
BIO
C.J. Stewart has built a reputation as one of the leading professional hitting instructors in the country. He is a former professional baseball player in the Chicago Cubs organization and has also served as an area scout for the Cincinnati Reds. As founder and CEO of Diamond Directors Player Development, CJ has more than 12 years of player development experience and has built an impressive list of clients, including some of the top young prospects in baseball today. If your desire is to change your game for the better, C.J Stewart has a proven system of development and track record of success that can work for you.