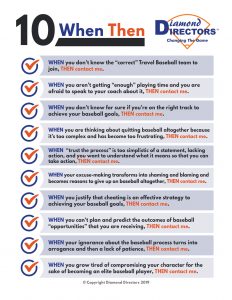 May I help you? Here are three reasons why some hitters say no to me: Pride, Lies and Allies.
Pride
"Pride comes before destruction, and an arrogant spirit before a fall." — Proverbs 16:18 Christian Standard Bible
Pride is a negative feeling of deep pleasure of one's own achievement. I have to fight against being prideful often. Pride makes me forget that I always need the help of others in order to achieve anything worth achieving.
The cure for pride is destruction.
Lies
"A lie told often enough becomes the truth." — Vladimir Lenin
A lot of hitters are too prideful to receive help. As a teenager, I had big dreams but lacked the the work ethic and skills to guarantee that my dreams would become a reality. So I convinced myself first, and then others, that I was better than what I was so that I didn't have to deal with the shame.
Humility was my breakthrough. Humility is not thinking less than of myself. It's thinking of others more than myself. Humility allowed me to be honest with myself about me, which then allowed me to ask others for help.
Allies
A group of prideful baseball players who lie to themselves to mask their failures become allies in the worse sense. Allies don't want help unless it hurts.
"Misery loves company."
When was the last time that your pride got the best if you?
What lie do you tell yourself when you don't want to face the truth when you are the cause of your failure?
Who do you call on for help when you are hurting?
Remember: Intelligence tops being smart.
For more information, visit www.diamonddirectors.com today. Also, check out our Digital Magazine.
---
C.J. Stewart has built a reputation as one of the leading professional hitting instructors in the country. He is a former professional baseball player in the Chicago Cubs organization and has also served as an area scout for the Cincinnati Reds. As founder and CEO of Diamond Directors Player Development, C.J. has more than 12 years of player development experience and has built an impressive list of clients, including some of the top young prospects in baseball today. If your desire is to change your game for the better, C.J. Stewart has a proven system of development and track record of success that can work for you.