I've been blessed to serve as a professional hitting coach for more than 18 years. I've developed several high school and collegiate All-Americans, first round draft picks and several MLB All-Stars. I'm among the top one percent in my industry. I'm significant because I use my talents to successfully serve others.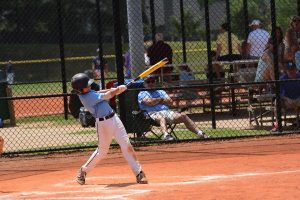 My success causes me to pause and identify why I'm having success. I don't have a college degree and I don't work lots of long hours, yet I get unmatched results.
I love people and I believe that the world needs more significant people to occupy it. John Maxwell often is quoted for saying that "you can't give what you don't have."
I have a wealth of experience, knowledge and love to give my clients within a proven methodology. My methodology lets me know what to do, when to do it and how to do it.
Here are three questions that I ask my clients that every coach should also ask:
What makes you laugh?
What makes you cry?
What do you dream about?
These are questions you ask of others when you are committed to helping them achieve their full potential as a baseball player, teammate, dentist, astronaut, husband, father, etc.
I refuse to work hard as a coach. Working hard makes you tired. There is no reason to when I can gain access to the heart. These three questions get to the heart.
Tip of the week – Ball Toss 
My personal mission in life is be significant and to serve millions, starting with my wife, Kelli, and my daughters, Mackenzi and Mackenna. You can see from my mission why I ask questions that touch the heart. My personal mission is why I get great results. My personal mission is why I'm able to L.E.A.D. hundreds of young black males in Atlanta through baseball on an annual basis.
To God be the glory!
Put the amount of batting practice that you receive from a coach aside for a moment. Ask your coach to ask you those three questions so that you can reveal who you are beyond hitting a baseball – that's if you want to reach your full potential as a person that plays baseball.
Remember: Good hitters don't work hard; they work smart.
For more information, visit www.diamonddirectors.com today. Also, please check out our eMagazine.
BIO
C.J. Stewart has built a reputation as one of the leading professional hitting instructors in the country. He is a former professional baseball player in the Chicago Cubs organization and has also served as an area scout for the Cincinnati Reds. As founder and CEO of Diamond Directors Player Development, CJ has more than 12 years of player development experience and has built an impressive list of clients, including some of the top young prospects in baseball today. If your desire is to change your game for the better, C.J Stewart has a proven system of development and track record of success that can work for you.