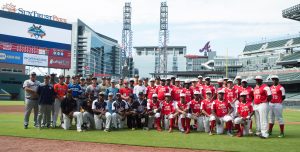 There are times in life when what you do on the front end affects the outcome on the backend. As you begin to tryout for new fall baseball teams and get selected, here are three questions you should ask your fall baseball coach before accepting a spot on his team:
Why did you select me?
What can you guarantee me?
What do you see as my full potential in baseball?
Parents and players definitely are cringing at the thought of asking a new coach these three questions after being selected on a new team. Some of the same parents and players also will be upset near the middle and end of the fall season if their expectations aren't met.
In my opinion, asking these questions isn't an example of arrogance. On the contrary, they signal you want assurance considering you're investing time and money into the team.
1. Why did you select me?
My wife Kelli of 20 years is beautiful. I didn't marry her solely because of her beauty. Kelli is a focused woman who wants to become the best version of herself. She wants the same for me.
Some coaches will pick players because of their athleticism, physical appearance, strength, etc. That isn't enough, considering it takes 10,000 hours of deliberate practice to develop a skill, according to Malcolm Gladwell.
A coach who is responsible for the development of your child must use words like development, habits, values, standards and accountability.
When I ask a coach why he selected my son to play on his team, this is what a coach can and should say to me to get me excited because of the love and care I have for my child:
"Thank you for asking. I selected your son because I believe development can be measured. I will make sure he's assessed in the beginning and end of the fall season, proving to you his development beyond his batting average. I will help him develop habits that will convert his current talent to skills in the future beyond playing for my team. We are a team that's governed by core values. Each parent, player and coach will be held accountable for meeting and/or not meeting those standards."
A coach who is responsible for the development of your child must use words like development, habits, values, standards and accountability.
2. What can you guarantee me?
If a coach can clearly explain to you why he selected you, he should also be able to guarantee you a specific minimum amount of at bats.
It can be stressful wondering if you'll get playing time. The only way to develop is by getting opportunities to fail and make adjustments.
On average, a fall season is 15 to 30 games. That's 45 to 90 at-bats if you get three per game. Trust me when I tell you that a coach who understands development should have no problem guaranteeing you a minimum amount of at bats.
A minimum number is a decision. The "let me think about it" answer needs to result in a decision within three days, or it becomes a no for me, especially considering I must guarantee to pay fees and work the concession stand during games.
3. What do you see as my full potential in baseball?
This is an important question, because affirmation leads to hope. It is a great feeling to have a coach believe in your current ability and have him speak to you about what your future can be.
Coaches who can't see into the future may downplay this question by saying it's best to focus on the here and now. But we don't have that mindset when it comes to our travel program. As travel ball coaches, we're always looking into the future in order to remain relevant and solvent.
Your full potential, according to your coach, may be high school baseball and that's it. It may be college and it might be the pros. Unfortunately, it's taboo for coaches to talk about the pros to young players, mainly because the success rate isn't high.
On the contrary, I believe the success rate of Major Leaguers is low because coaches can't see that far, and thus can't communicate it to their players. It's also difficult for us to discipline ourselves to a development experience that allows players to fail, because we have to win to remain relevant and solvent.
Ask your new fall baseball coach these three questions to determine if what I'm saying is the truth or a lie.
Remember: Intelligence tops being smart.
For more information, visit www.diamonddirectors.com today. Also, check out our Digital Magazine.
____________________________________________________________________________
C.J. Stewart has built a reputation as one of the leading professional hitting instructors in the country. He is a former professional baseball player in the Chicago Cubs organization and has also served as an area scout for the Cincinnati Reds. As founder and CEO of Diamond Directors Player Development, CJ has more than 12 years of player development experience and has built an impressive list of clients, including some of the top young prospects in baseball today. If your desire is to change your game for the better, C.J. Stewart has a proven system of development and track record of success that can work for you.