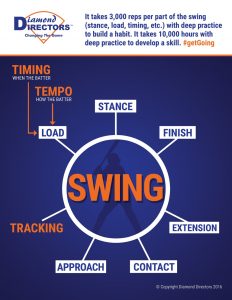 Talent is what we do well. Habits are what we do well repeatedly without thought. Skills are what we do well repeatedly without thought while under stress.
Major Leaguers spend their off-season (November-January) building habits and strength. Now that spring training is here, they're converting those habits to skills.
For example, they're using the tee to groove their swing approach, receiving lots of front toss and coach pitch to improve their tempo. They're facing living pitching so that they can get on time.
Converting habits to skills requires stress. For the sake of being on time and to get the desired results, MLB hitters are willing to step up to the plate in spring training and strike out several times. This failure brings results.
As we know, stress develops skills and skills pay the bills.
Are you willing to be stressed to become the best?
How do you handle stress?
How do you invite stress in your training to prepare for the tests (games)?
Remember: Intelligence tops being smart.
For more information, visit www.diamonddirectors.com today. Also, check out our Digital Magazine.
---
C.J. Stewart has built a reputation as one of the leading professional hitting instructors in the country. He is a former professional baseball player in the Chicago Cubs organization and has also served as an area scout for the Cincinnati Reds. As founder and CEO of Diamond Directors Player Development, C.J. has more than 12 years of player development experience and has built an impressive list of clients, including some of the top young prospects in baseball today. If your desire is to change your game for the better, C.J. Stewart has a proven system of development and track record of success that can work for you.