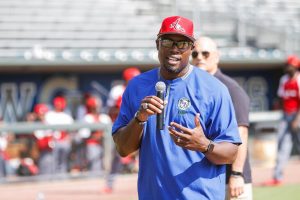 "Talk is cheap and everybody can afford it." That old saying still rings true. Here we are in August, more commonly known to my clients as the official start of fall baseball season. This is the time to try new things and determine what works and what doesn't. It's the time for assessment.
August is the time to pour everything you have into the game. It's also a time to be emptied.  Like oil and water doesn't mix, you can't be helped and humbled at the same time.
As we work to make ourselves better, remember this acronym for this month of pure baseball passion:
A – Are
U – You as
G – Good as
U – You
S – Say,
T – Today
Are you as good as you say that you are today?
How good are you?
How good is your coach that makes the claim that you are good?
What do you need to work on this fall to be great in the upcoming spring and summer?
Remember: Intelligence tops being smart.
For more information, visit www.diamonddirectors.com today. Also, check out our Digital Magazine.
---
C.J. Stewart has built a reputation as one of the leading professional hitting instructors in the country. He is a former professional baseball player in the Chicago Cubs organization and has also served as an area scout for the Cincinnati Reds. As founder and CEO of Diamond Directors Player Development, C.J. has more than 12 years of player development experience and has built an impressive list of clients, including some of the top young prospects in baseball today. If your desire is to change your game for the better, C.J. Stewart has a proven system of development and track record of success that can work for you.