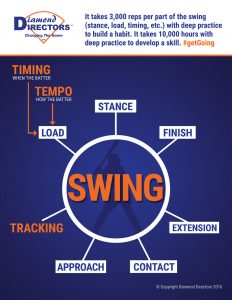 In my Hitting Lab, the fall (August-October) is all about trying new stuff to determine what does and doesn't work. The winter (November-January) is when we get thousands of reps to build strength and habits around what works.
Do you remember that it takes 3,000 reps to build a habit and 10,000 hours to develop a skill?
That's 3,000 reps per part of the swing and here's how I break the swing down into parts.
Stance/Load x 3,000 reps
Timing x 3,000 reps
Tempo x 3,000 reps
Tracking x 3,000 reps
Approach x 3,000 reps
Contact x 3,000 reps
Extension/Finish x 3,000 reps
Your math is correct. That's 21,000 reps to build a habit. You owe it to yourself in August through October to challenge yourself.
Ellis Prigge, a freshman football and baseball player at The Lovett School, is one of my clients that I've had the privilege to coach and mentor as a hitter for more than three years.
As long as he's a client of mine and taking up space in my Hitting Lab, here are five approaches to hitting he must commit to all fall (August-October). You can't get good unless you challenge yourself.
1. High Leg – And I mean really high leg load. It's extremely uncomfortable for many to do, but generates lots of power.
2. Hand Drop – You need your hands dropped so that the knob of your bat touches your back hip. This is not fun for most hitters.
3. Open Stance – My hitters must make themselves perpendicular to the pitcher. It really challenges your timing and tempo. Figure it out.
4. Cross Grip – My hitters despise this, even though Home Run King Hank Aaron hit hundreds of home runs in the Minors this way. Your body awareness must be on point to get good results here.
5. Your Way – By the time you start to hit your way, you begin to second guess it. That's what I want. People didn't travel by airplane until 1903 when the Wright Brothers made their dream a reality. Even after their success, folks thought they were crazy.
Check out this video testimonial from Ellis Prigge. After a recent August Hitting Lab session I asked him to answer some questions about the Assessment Phase of hitting in my Hitting Lab.
Remember: Intelligence trumps being smart.
For more information, visit www.diamonddirectors.com today. Also, check out our Digital Magazine.
BIO
C.J. Stewart has built a reputation as one of the leading professional hitting instructors in the country. He is a former professional baseball player in the Chicago Cubs organization and has also served as an area scout for the Cincinnati Reds. As founder and CEO of Diamond Directors Player Development, CJ has more than 12 years of player development experience and has built an impressive list of clients, including some of the top young prospects in baseball today. If your desire is to change your game for the better, C.J. Stewart has a proven system of development and track record of success that can work for you.