This is one of those blogs that will make our industry better. I don't have the time to discuss or argue the best place for hitters to put their hands and feet. Below is my checklist of the 10 important things every good instructor must have in order to serve his clients well.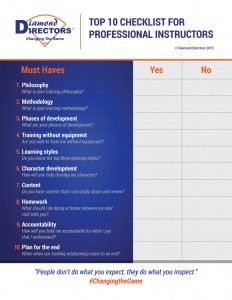 I possess all 10 items on this list. If there is something I didn't have, I would want to know, so that I could do everything I could to get it. Doctors, lawyers and even sanitation workers have continued education. Baseball instructors do not.
So, here we go mom and dad. Check out the 10 items on this checklist so that you can ask your child's instructor/coach before their next session:
No. 1 – Philosophy
What is your training philosophy?
A philosophy is an attitude held by a person or organization that acts as a guiding principle for behavior. If your instructor/coach can't tell you his philosophy, he doesn't have one. If he doesn't have a philosophy, he won't have anything that can guide his behavior as a coach. Essentially, we are "doing stuff" without a philosophy.
How about me?
My training philosophy is simple to understand and requires disciple to apply. Practices prepare my hitters for games, while games prepare my hitters for their next practice. This is a cycle that continues throughout every hitters' baseball career.
No. 2 – Methodology
What is your training methodology?
A methodology is a way of doing things. There are several things about the swing that must be taught for understanding. Think about your favorite food from your favorite restaurant. The reason it's always so good is because it's prepared with a good methodology. It's not by accident. Is your swing success by accident?
How about me?
The methodology of training hitters that I developed is called ATBATS (Assessment, Training for strength, Basics, Approach, Training for skill and Situational hitting). ATBATS is administered in sequence with everybody starting at the initial assessment, regardless of their skill level and experience.
No. 3 – Phases of development
What are your phases of development?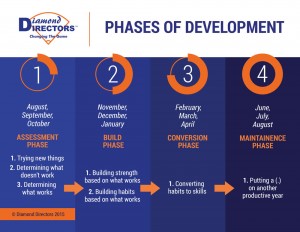 Having phases of development holds your instructor/coach accountable for teaching hitting at the appropriate time. When is the right time to open Christmas gifts? When is the best time to wear costumes and go door to door for candy?
How about me?
August-October is the Assessment Phase
November-January is the Building Phase
February-April is the Conversion Phase
May-July is the Maintainence Phase
No. 4 – Training without any equipment
Are you able to train me without equipment?
The swing consists of seven parts. It takes 3,000 reps to create a habit. Before a baseball is ever hit with a bat, there are several habits that must be developed. A really good coach can train you without using a cage or equipment.
Stance/Load x 3,000 reps
Timing x 3,000 reps
Tempo x 3,000 reps
Tracking x 3,000 reps
Approach x 3,000 reps
Contact x 3,000 reps
Extension/Finish x 3,000 reps
Total – 21,000 reps
How about me?
I'm a terrible batting practice thrower, unless you want to work on plate discipline. I have at least three skill- build drills for each of the seven parts of the swing listed above that doesn't require the use of equipment or a batting cage. I don't need to take a client into a cage to hit a baseball until after 21,000 reps. All I need is your child, time and lots of desire.
No. 5 – Top three learning styles
Do you know the top three learning styles?
If your instructor/coach doesn't know the top three learning styles, how can he properly teach you according to how you uniquely learn? The top three learning styles are auditory (learning by hearing), visual (learning by seeing) and kinesthetic (learning by doing).
How about me?
I can determine the dominant learning style of a new client within 10 minutes of my physical assessment.
No. 6 – Character development
How will you help develop my character?
Character is a pattern of behavior based on core values. Anyone can learn how to hit, but character will make what you learn stick. There are several core values that people must have in order to function as "good people." Your instructor/coach should be held responsible for helping you develop more than just a good swing. How about these six core values?
Excellence – fulfilling expectations
Humility – think of yourself less and others more
Integrity – do the right thing even when you can do the wrong thing
Loyalty – start and finish
Stewardship – protect all that is entrusted to you mentally and physically
Teamwork – more gets done when it's not just you
How about me?
I teach each core value twice per year during my sessions with my clients. Being intentional is rewarding.
Excellence – August, February
Humility – September, March
Integrity – October, April
Loyalty – November, May
Stewardship – December, June
Teamwork – January, July
No. 7 – Content
Do you have content that I can study, share and review?
Like great school teachers, coaches must create relevant content that their clients can study, share and review in preparation for your practices and games. This blog is an example of the content that I create. I discipline myself to write blogs that are published every Wednesday, every week throughout the year.
How about me?
My three main content resources that I create on a weekly basis are blogs, how to videos and digital magazine.
My Blog
No. 8 – Homework
What should I be doing at home between my next visit with you?
Instructors/coaches ask hitters to do their homework all the time. I challenge players to challenge their instructors/coaches to give them homework by email after each session. Individual time with an instructor/coach at best gives the player access to new information. The skill must be developed at home.
How about me?
At the most, I see my clients three times per month. In several cases, I work with hitters every three months. To work with me, you must do your homework in order to move forward in my ATBATS methodology. I refer to my clients homework as a prescription.
Common Prescription
Load
10-2 Drill x 30 reps
Check out the video here
Approach
Wall Drill Mirror x 30 reps
Check out the video here
Extension
Wall Drill Extension x 15 reps (5 second hold)
Check out the video here
Tempo
Tennis Ball Drill x 30 reps
Check out the video here
Note: 3 sets x 4 days per week x 12 weeks
No. 9 – Accountability
How will you hold me accountable for what I say that I understand?
People don't do what you expect, they do what you inspect. My philosophy, methodology and phases of development are proven swing development mechanisms. They hold me accountable for doing the right thing, at the right time, for the right clients. Your instructor/coach should hold you accountable for what you are learning, just like your math teacher does.
How about me?
Here are a few questions that my clients must be able to answer in order to demonstrate they have an understanding of what I'm teaching them. Remember: "People can't act on information that they don't have." – Aubrey Malphurs
What is Diamond Directors philosophy?
What is Diamond Directors methodology?
What are Diamond Directors phases of development?
How many parts are there to the swing?
What are three things that you learned in today's Hitting Lab session?
Share an inspirational quote that you have recently read that helps you with a core value that you are struggling with.
No. 10 – When is the end
When will our training relationship come to an end?
All great things come to an end, and that applies to coaching relationships, too.
How about me?
When I'm doing my job well, my clients should not need me the same way after five years of a training. When they contact me for help after five years of training, my initial question to them is, "What do you want me to tell you today that we haven't discussed over the last five years?"
Dependent relationship (1-2 years) – you need me often
Interdependent relationship (3-5 years) – you need me occasionally
Independent relationship (5+ years) – you need me rarely if at all
For more information, visit www.diamonddirectors.com today. Check out our Digital Magazine.
BIO
C.J. Stewart has built a reputation as one of the leading professional hitting instructors in the country. He is a former professional baseball player in the Chicago Cubs organization and has also served as an area scout for the Cincinnati Reds. As founder and CEO of Diamond Directors Player Development, CJ has more than 12 years of player development experience and has built an impressive list of clients, including some of the top young prospects in baseball today. If your desire is to change your game for the better, C.J Stewart has a proven system of development and track record of success that can work for you.