Summer baseball for a young athlete can really take a toll on the body. By mid July, your body is probably saying, "Give me a break!"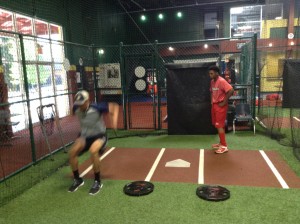 As a young athlete, you're body is going through so many phases. You're playing 50 or 60 plus games a summer and wondering when your next off day may be. You're playing a game one day, and then the next, you're in the gym.
When CJ Stewart asked me to write on this topic, I was so excited to bring forth some knowledge on the other side of baseball training: health and nutrition.
CJ asked me, "If baseball players are what they eat, what should they eat to have a high batting average this summer?"
As a former collegiate athlete and personal trainer, I have seen how far our bodies can be pushed and tested. As time goes by, your body is made to excel and grow. In my experience as a baseball player, there were countless times where I was on the go and doing nothing but playing baseball. Day in and day out, I was on the field or traveling to the next state. Baseball was life.
But what I didn't know was that my body was being pushed in ways that I never thought it could be. I had no clue about eating habits or nutritional value in foods. So, after my baseball career ended, I decided to be a fitness/nutrition fanatic – a move that changed my life.
So, back to the question, "If baseball players are what they eat, what should they eat to have a high batting average this summer?"
Here's a look at some of the foods athletes should eat to maintain a healthy metabolism (process of maintaining a good body structure) and build up muscles during the summer season:
Foods high in protein
Protein gives the body the ability to repair muscles after rigorous training or a long day at the ballpark. Here are some of my favorites:
Eggs with cheese and turkey – When you can, add extra protein to your meal, in this case, it would be turkey
Almonds, cashews, and regular peanuts (great for in between game snacks)
Grilled chicken – I know you guys will go out to restaurants and eat, so definitely get a grilled chicken option
Fish – Any type of grilled fish will give you the proper amount of protein
Extra protein snacks – protein bar, trail mix, Greek yogurt, beef jerky
Drink plenty of chocolate milk – This is a great source of protein for young players.
Next, make sure you're eating foods that are low to medium with carbohydrates. Carbs (as they are called) are used for energy replenishment. Now, I'm not saying don't eat carbs, but just eat them in moderation. Carbs are great to eat directly after a game or workout. When your body exerts a high amount of energy, it's crucial that you restore your body with the right amount of carbs. Anything more than about 12 grams of carbs on a nutrition label, you should stay away from. Your body needs the balance of carbs and protein to make you stronger and energized at the same time.
Examples of good carbs are:
1. Bananas
2. Cereal (look for low sugar in cereals)
3. Potatoes – sweet potatoes are my favorite!
4. Pasta
5. Oatmeal
6. Milk
Lastly, always watch out for foods or drinks high in sugar. As an athlete, sugar is something that can weigh you down.
Food/drinks to watch out for:
1. Candy bars
2. Soft drinks
3. Donuts
4. Sport drinks
5. Chips
6. Cookies
All of these are high in sugar and can definitely affect your play on the field. It is easy to eat these foods when you have nothing else in front of you.
Replacements:
1. Drink high volumes of water – You should drink a gallon of water a day. Your body is made up of 75 percent water, so why not add to it?
2. Advocare Spark – This is a great energy booster that athletes should use before a game. Mix it with water and you are good to go. For my details, visit my website at www.advocare.com/150151273.
3. Replacements for food – Turkey and ham wraps, string cheese
Always remember, you're young now, but keep in mind what you eat. Metabolism will help you now, but eating right can help you for the future. The things above are what athletes should do to have a high batting average this summer.
The second question to look at is: What are five exercises you can do despite the summer heat?
The summer heat can be unbearable sometimes, especially here in Atlanta. But it is a grind to be an athlete that we must put in our work to get stronger and faster.
If you are working out, you should find different exercises to add variety to your plan. Here are 5 exercises you can use despite that harsh summer sun:
Swimming
Swimming. Yes, swimming is great for three things:
Rotator Cuff Strengthening – Helps with shoulder mobility
Quads/Hamstring work – Great for building the lower half of your body
Core strength – Helps build the mid section or torso of body
Rep Scheme: Swim the length of the pool 20 times and try to go faster each time.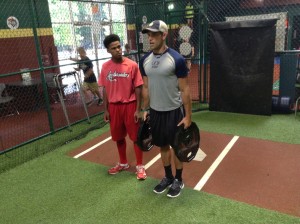 Farmers Carry
The Fireman's Carry is when you are carrying to weights in each hand and walking a specific distance. You can carry anything that has weight – sandbags, dumbbells or a buckets of balls.
Rep scheme: Walk 50 yards and rest. Progressively get faster each time.
Short quick sprints
Running will make you hot, but this is perfect because the sprints should only go as far as 20 yards. Rest 30 seconds or more each time, which will give you good separation between sprints. It beats long distances, especially since baseball has always been a short explosive sport.
Rep scheme: Do 20 sprints at max effort and call it a day with that exercise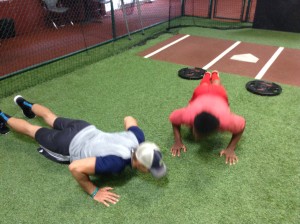 Abs
Choose four of your favorite abdominal workouts and put them together. For example, regular crunches, V-Ups, planks, six inches, Russian twists (twist side to side and touch ground)
If you want variety for your abs, try spider man push ups (go down to the push up position and hold there with one leg pulled in to your chest). Others include hip raises with hold at top, medicine ball twists, atomic sit ups. For even more fun, do sit ups with the sprinklers on.
Rep scheme: Do the 50/10 Ab Workout is when you do 50 seconds on, 10 seconds off abdominals (abs) for 12 minutes.
Legs
You also can try air squats, push ups, and broad jumps. Try this Body Weight/Explosive Movement Workout.
Rep scheme: Do 3 rounds of 15 each. That will give you plenty of reps plus quick and explosive movements
BIO
Drew Parker is a professional instructor/sports performance trainer with the D-BAT Atlanta Baseball and Softball Academy. Born and raised in Powder Springs, Ga., Parker won seven national titles with East Cobb Baseball and posted a four-year collegiate baseball career, playing in three NCAA Regionals and was part of the team that won the first conference championship for GA State. In addition, he is ranked in the top 375 in Georgia for Crossfit Fitness. You can reach him at 678-910-1889 or via email at drewkparker@yahoo.com.