I'm confused by parents whose actions don't match their words.
Dad: Son, what do you want to do when you grow up?
Son: I want to play Major League Baseball.
Dad: But less than 1 percent of baseball players make it to that level, son.
Son: I know.
Dad: You have to choose something more realistic.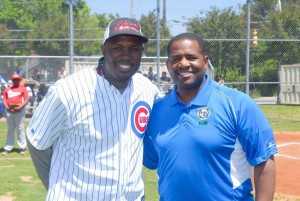 The helicopter parent telling his son that he can't play Major League Baseball is like Albert Einstein telling us that there are no more discoveries to be made.
Why do parents hover over their children in sports? Either they want the best for their children or they failed to reach their potential as an athlete and now want to redeem themselves through their kids.
Whatever the reason, it doesn't make sense to sacrifice thousands of hours and dollars, only to destroy your son's dream to play in the Majors.
I am considered irresponsible by many baseball instructors for telling kids like Jason Heyward, Dexter Fowler, Andrew McCutchen, Tyler Flowers, Charlie Culberson, Tim Beckham and many others that they could play Major League Baseball.
I've been an industry leader in developing elite hitters for 18 years. In order to do that, I have to take the time to be developed. One of the things I personally do to develop myself is read books like "Instinct," "Outliers" and "Talent Code." I've also spent well over two hundred hours shadowing leaders in non-sports industries.
With the help of one of my mentors and close friends, Bill McLellan, who is a Six Sigma, I was able to take my intuitive baseball training methodology from my head and put it on paper. My ATBATS training methodology enables me and my clients to navigate the world unapologetically and get results.
I established Diamond Directors because I believe the world needs significant people. The world doesn't look to MLB players to solve wars or end poverty. It's a complicated place that needs significant people to be the salt.
So, when I tell a kid that he can play Major League Baseball, what I'm really doing is giving him permission to dream.
Have you ever met a dream killer? That person who always casts doubt when you dream?
I've gone to several Major League Baseball Opening Day Ceremonies. I have seen my clients hit home runs on their first at bat, attended their weddings and held their newborn babies. I've developed dentists, attorneys, soldiers, coaches, doctors, politicians, mechanics and entrepreneurs.
I'm on earth to develop significant people. Here are three reasons why my clients should continue to dream, unapologetically:
Hope
It's normal to be afraid of what the future may or may not hold, but without hope, you die – and I mean that literally. When it's time for your baseball career to end, you, and only you should make that decision. When my professional baseball career ended at a rather young age, I was blessed to move into my purpose of developing significant people because of hope.
Health
It is annoying to me to be in the company of those who doubt almost everything. It can't be physically healthy when everything is based on doubt. I'm not a doctor, but I'm willing to bet optimistic people live longer and better lives than pessimistic ones.
The danger of doubt is remaining in doubt. If you continue to strive over doubt, it will paralyze you. It can paralyze your relationships, finances, career advancement and, worst of all, your obedience to God.
"He is either trustworthy or He is not." – Boyd Bailey
Dream big, be bold and live long.
Healing
Life is full of let downs, which causes too many people to give up. Baseball made the word perseverance come to life for me. Dreaming is healing. Think about a recent let down that you experienced. How did you make it past that let down?
When you experience the next one, and it may be coming soon, try dreaming of the ideal resolution as a form of healing. Dreaming directs and redirects. If I've done my job with this blog, it will create new conversations between children and their parents, their teachers and their coaches.
Here are a few questions you can discuss over some soul food this summer?
From the athlete to parents, teachers, coaches, etc.
What do you feel is my full potential as a baseball player?
When my baseball career is over, what do you feel that I would be great at?
What did you dream of becoming when you were a kid?
What do you dream about as an adult?
What prevents you from dreaming the way that you would like to?
Who are three people that killed your dreams as a youth?
What fears do you have about my future?
For the athlete from parents, teachers, coaches, etc.
What do you dream about?
What do you dream of doing in life after you choose to retire from baseball?
Who are the top three people that can catch your dreams?
Who are the top three people that kill your dreams?
How do you feel when people encourage your dreams?
How do you feel when people kill your dreams?
How do you respond when people try to kill your dreams?
Adults have a responsibility to protect children, and we must also understand that unintentional hurt is still hurtful. And since you have to wait for realism to be realized, what's the harm of dreaming and waiting to find out what happens. The key word is wait, not wait like sit on your tush and do nothing. Rather wait (verb) like a waiter and use your God-given ability to dream, fulfill yourself and serve others. When you take the first steps to use your gifts/abilities, God will honor your sacrifice and commitment and manifest your presence in ways that far exceed anything you've ever dreamed.
As a parent, I'm always concerned about negative messages that my daughters, ages 13 and 7, are in contact with. I can't protect them from everything and everyone who are negative. What I have done is given them permission to remove themselves from the presence of dream killers, especially when Daddy isn't there.
I also have to make sure that my wife, Kelli, and I aren't their biggest dream killers. Dreams are ideas of what we can become.
Diamond Directors is a destination for my clients to find out how good they can become. I ignite dreams. I am a dream catcher. Dreams can be interrupted by failure and they can also be fueled by it.
So dream on, because the world needs significant people like you.
Check out our "Tip of the Week" – Push Drill 
Remember: Good hitters don't work hard; they work smart.
For more information, visit www.diamonddirectors.com today. Also, please check out our eMagazine.
BIO
C.J. Stewart has built a reputation as one of the leading professional hitting instructors in the country. He is a former professional baseball player in the Chicago Cubs organization and has also served as an area scout for the Cincinnati Reds. As founder and CEO of Diamond Directors Player Development, CJ has more than 12 years of player development experience and has built an impressive list of clients, including some of the top young prospects in baseball today. If your desire is to change your game for the better, C.J Stewart has a proven system of development and track record of success that can work for you.