Good hitters don't work hard; good hitters work smart.
We're in the midst of another summer of baseball. But just as the weather stays hot (how about 100-plus degree record temperatures in Atlanta?), your hitting can cool off if you don't stay sharp.
Remember, summer is the best time to rank skills such as hitting against some of the best players in the country. The truth is that until you retire from the game, you have to stay focused on developing your hitting skills.
As the summer season concludes, here are three things you can focus on to help simplify your hitting.
1. The stride is the thing
Most of the time, not getting your hands and front foot in a good position to track the pitch and start your bat during the approach to the ball can cause failure at the plate. The sooner your front foot is down, the sooner you can start your hands. When I say front foot down, I mean your entire foot – including the heel.
If you stride with your heel up, your body will rise up, which causes your backside to collapse during approach. Some hitters also tend to over stride. This makes it difficult to repeat a good approach to the ball. You will know your feet are in a good position when they are evenly aligned with your toe and the length of your bat, and your heel is down.
If you're having a difficult time taking a good approach to the ball, consider not striding at all. Start your stance evenly aligned with the length of your bat and remain in this position with your feet during your swing's load phase. You still will need to trigger your hands back to create rhythm in your swing. Bet you will start seeing the ball better.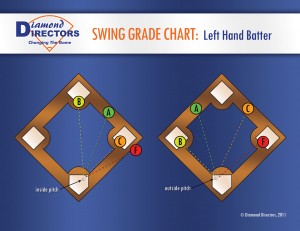 2. Take your shots between shortstop and second base
You know you're taking a good approach to the ball when you hit shots between shortstop and second base. Remember: Pull inside pitches and drive outside ones to the opposite field (See diagram). Hitting balls in the proper area of the field lets your coaches and scouts know if your approach is short.
Having a short approach allows you to maximize extension, which produces power. If you have a good approach, you'll also be able to adjust easier to breaking balls. While there's no guarantee you'll get a hit every time up, you can control your approach, which may result in more hits.
3. Hit more ground balls
In a perfect world, every hitter wants to hit more line drives. The other options are pop ups or ground balls (you want to avoid pop ups). Good hitters hit ground balls. Hitting a ground ball in the proper area of the field (See diagram) means you're keeping the barrel above the ball with your bottom hand. If your top hand extends outward and you continue to hit ground balls, you're hitting the top of the ball. You can't control this.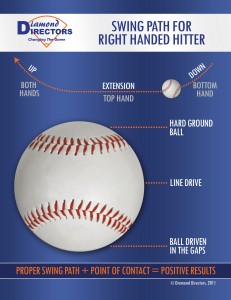 Show me a good hitter, and I will show you a player who hits at least 50 percent of his balls on the ground – shots that take at least two hops before they get out of the infield. Ground balls don't mean you're a weak hitter. Remember: If you hit more ground balls, you'll accidentally hit more line drives.
Good hitters don't work hard; good hitters work smart.
If you want to set up an appointment, visit us at diamonddirectors.com.
BIO:
C.J. Stewart has built a reputation as one of the leading professional hitting instructors in the country. He is a former professional baseball player in the Chicago Cubs organization and has also served as an area scout for the Cincinnati Reds. As founder and CEO of Diamond Directors Player Development, CJ has more than 12 years of player development experience and has built an impressive list of clients including some of the top young prospects in baseball today. If your desire is to take your game to the next level, C.J Stewart has a proven track record of helping players reach their goals.