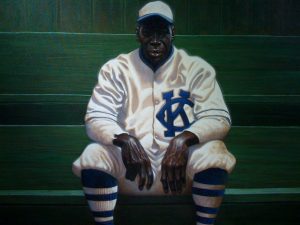 I meet a lot of young people who have dreams of playing Major League Baseball. Their dreams are clear and believable. They can tell you the team that they want to play for, the amount of money they will make, the car they will drive and the name of the foundation that allows them to invest their wealth to solve world issues and problems.
Here's the deal: You can't do all of that if you don't have what it takes to do it. For me, the "IT Factor is intentionality and tenacity.
Intentionality is doing something on purpose. Tenacity is being determined regardless of setbacks.
Negro League players had the I.T. Factor.
They showed up with next level talent. Their talent became habits and their habits were converted to skills. Skills pay the bills.
What are you purposely doing now that will guarantee the season that you dream of having?
When you experience failure this season, how will handle it so that you can keep going?
Remember: Intelligence tops being smart.
For more information, visit www.diamonddirectors.com today. Also, check out our Digital Magazine.
---
C.J. Stewart has built a reputation as one of the leading professional hitting instructors in the country. He is a former professional baseball player in the Chicago Cubs organization and has also served as an area scout for the Cincinnati Reds. As founder and CEO of Diamond Directors Player Development, C.J. has more than 12 years of player development experience and has built an impressive list of clients, including some of the top young prospects in baseball today. If your desire is to change your game for the better, C.J. Stewart has a proven system of development and track record of success that can work for you.