"Working with CJ helped me develop into an elite hitter. His training regiment and knowledge of the game is second to none. He knows what it takes to take swings to the next level." – Ashley Pauly
Over my 14 year career as a swing coach, my favorite client is Ashley Pauly. Ashley recently completed her fourth season as a member of the University of Georgia Lady Bulldogs softball team. A four-year starter at Georgia and two-time state champion for Kennesaw Mountain High School, Ashley can do it all on the field.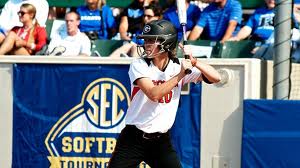 Under my instruction, Ashley's best collegiate season was in 2011, where as a junior she batted .352 for Lady Bulldogs.
What I enjoyed most about working with Ashley is that she took learning very seriously. The batting cage is my office, so I'm all about education in my Hitting Lab. Ashley was a hard worker. She would get lots of reps in the batting cage at school, and then sought my direction to maximize her practice time.
Let's be honest: Batting .352 in the SEC doesn't happen by accident.
While my I am known for my success of developing boys into elite hitters, girls can do it, too, with my direction. My experience with most young ladies is that they're committed to learning before hitting thousands of balls. Most of them are auditory learners and appreciate my ability to properly communicate with them.
The swing is exactly the same for boys and girls. For years, girls haven't been challenged to be elite athletes. But I take the training wheels off, which enables them to swing with confidence and freedom. I enjoy watching girls get full extension and drive the ball like the boys. It comes down to having someone believe in you that can direct the process of elite swing development.
So, are you ready to experience Diamond Directors? Through a proven methodology, process and programming, we have what you need, when you need it. We are Changing The Game.
For more information, visit www.diamonddirectors.com today.
BIO:
C.J. Stewart has built a reputation as one of the leading professional hitting instructors in the country. He is a former professional baseball player in the Chicago Cubs organization and has also served as an area scout for the Cincinnati Reds. As founder and CEO of Diamond Directors Player Development, CJ has more than 14 years of player development experience and has built an impressive list of clients including some of the top young prospects in baseball today. If your desire is to take your game to the next level, then Diamond Directors can change your game today.