Jason Heyward experienced two major surgeries during the 2013 season – he had appendectomy surgery and he suffered a fractured jaw, which sidelined him for several weeks.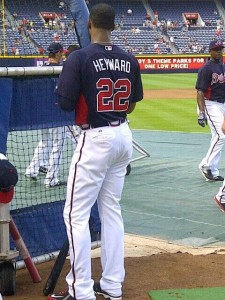 Even though he was disabled, Jason returned to perform at a high level.
That kind of focus is what makes you an elite hitter. It's the physical stuff. Most coaches spend 90 percent of their time teaching hitters how to develop a short approach. They say things like: "Let the ball get deep." "Hit the ball out front."
The remaining 10 percent of time, they talk about "having a plan at the plate" or "practicing the way you want to play."
Arguably, baseball is 90 percent mental and 10 percent physical. Jason's injuries give us the opportunity to take a closer look at the three Ps:
Prepared
I was fortunate to join Jason's team of development experts when he was 14 years old. Everything we ever did prepared him to become a Major League Baseball player. We made his swing good enough to compete at the highest level. The foundation for that rests in a methodology and process of teaching I developed in 1998. This teaching principle enables me to get my students to where they need to be.
Jason is one of the many MLB players I've developed in their teens. Building the swing mechanics is the easy part. Once you have it, you have it. Jason has it. Today, we spend most of our time developing his tempo and timing. That's has been the secret to his quick return to success from those major injuries. We focus on the important stuff.
Remember: 10 percent of hitting is physical. That means you must be wise with your time. If you aren't spending 90 percent of your time improving your timing and tempo, you won't compete at the highest level.
Click here to visit my Online Hitting Lab and let me help you direct your swing development this fall.
Patience
Real patience is realized and developed in times of adversity. We're talking about the 90 percent of baseball development now. These two injuries gave Jason an opportunity to strengthen his mental muscles. Most people run from adversity. Champions run toward it. It is important to understand that mental adjustments are needed to produce physically. Nobody's perfect. Too many of us strive for it and lose 100 percent of time. If you are sidelined for any reason, you must take that time to improve your mental prowess.
Perseverance
When Jason was cleared to play, he knew there wouldn't be immediate success in the form of hits. He was more focused on winning the processing battle of getting hits. It's all about getting in a proper loaded position to hit 90 percent of the time, taking a short approach 70 percent of the time to hit the ball hard 50 percent of the time, and getting a hit 30 percent of the time. It's easy to persevere when you have enough awareness to identify what you're doing wrong and posses the humility to make the adjustment.
Remember: Good hitters don't work hard; they work smart.
For more information, visit www.diamonddirectors.com today.
BIO:
C.J. Stewart has built a reputation as one of the leading professional hitting instructors in the country. He is a former professional baseball player in the Chicago Cubs organization and has also served as an area scout for the Cincinnati Reds. As founder and CEO of Diamond Directors Player Development, CJ has more than 12 years of player development experience and has built an impressive list of clients, including some of the top young prospects in baseball today. If your desire is to change your game for the better, C.J Stewart has a proven system of development and track record of success that can work for you.