"I'd get one hit, maybe a big knock in a game and I'd tell myself, 'Just stay there. It's gonna happen. Just keep pushing. More at-bats and it's gonna get better. I just had to keep that mindset: Don't get too frustrated, don't get impatient." – Atlanta Braves' slugger Jason Heyward on his plate approach over the past month of the season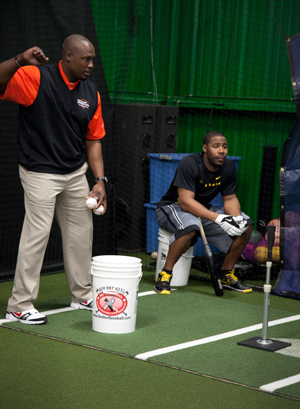 If you want to know how important quality at bats are, check out the one-week numbers posted by Atlanta Braves' slugger and Diamond Directors' client Jason Heyward toward the end of June. Heyward hit .522 with three homers, three doubles, nine runs, five RBIs, 26 total bases, four multi-hit games and a slugging percentage of 1.130.
Quality at bats is the most important aspect of the game for hitters, regardless of age or level. If you want to be the best, you measure success like the best.
According to Coaches Corner, there are four ways to register a quality at bat:
No. 1: Hit the ball hard, regardless of outcome – All line drives are hard hits. Hard hits also include groundballs and flyballs that force outfielders to retreat on the ball.
No. 2: Draw a walk – It's the "Money Ball" approach. Remember the old saying, "A walk is as good as a hit." It's true.
No. 3: Execute – Sacrifice, advance the runner to third, drive a run home with less that two outs, hit and runs, a squeeze play, etc. You have a job when you get the plate, so do it.
No. 4: Work the count – Any at bat that consumes six or more pitches is a quality at bat, regardless of the outcome.
Your target should be 60 percent quality at bats, with at least 40 percent coming from hard hit balls. Sure, these numbers are hard to achieve, but most players will be at 50 percent and 30 percent, respectively.
Remember, quality at bats leads to lots of hits.
This summer, don't get caught up in your batting average. It's important to understand what it takes to end with your desired batting average, but it's all about making the most of your plate appearances.
At Diamond Directors, our development of elite hitters is based on a proven methodology and process. I can train you onsite or online to help you achieve your goals.
Good hitters don't work hard, they work smart.
BIO:
C.J. Stewart has built a reputation as one of the leading professional hitting instructors in the country. He is a former professional baseball player in the Chicago Cubs organization and has also served as an area scout for the Cincinnati Reds. As founder and CEO of Diamond Directors Player Development, CJ has more than 12 years of player development experience and has built an impressive list of clients, including some of the top young prospects in baseball today. If your desire is to take your game to the next level, C.J Stewart has a proven track record of helping players reach their goals.