What is it about big leaguers that make them big leaguers? They obviously are the best in baseball, but what is the common DNA? Is what they do contagious?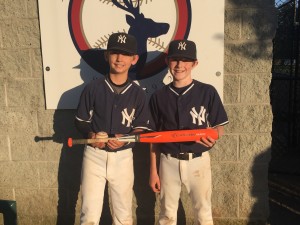 Big leaguers realize that they play a game that measures their success based on how often they fail. That's a simple thing to grasp in theory, but hard to apply. They apply it but amateurs struggle to do so.
They aren't smart. Smart hitters understand what to do but aren't physically and mentally able to do it. Big league hitters are intelligent, and intelligence is based on your ability to understand the swing and the ability to make quick adjustments that lead to results.
Big leaguers have keen awareness
They can feel when their stride is getting too long and realize that it will affect their bat path to the ball. Making this adjustment with their feet doesn't always mean they have to arrive at the field an hour early to hit. It often times means simply striding on a piece of duct tape 50 times per day at home for 5 minutes.
Remember that it takes 3,000 reps to develop a habit.
Big leaguers make physical and mental resets quickly
This goes back to awareness. Sometimes a pitcher throws a purpose pitch (curve ball) in the dirt to make the batter change his eye level and body alignment. If thrown properly, and if the hitter is undisciplined, the hitter will collapse. This doesn't pose a problem to a professional hitter because they recognize what they did wrong and will physically and/or mentally reset outside of the batters box quickly before the next pitch.
You can't make adjustments if you don't know that you did something wrong.
Big leaguers manage their own talent by being disciplined
If they have the information to be a Big League hitter, they must be disciplined enough to apply it. Discipline doesn't mean they're perfect. It simply means they can make adjustments.
Big leaguers have short-term memory
The big league season is long and there are many small battles to win within the season in order to win the all out war. The failure of a big leaguer on games 1-10 is what makes him successful in games 152-162.
Check out our Diamond Directors' Tip of the Week – The 10-2 Drill
Big leaguers are patient
They don't trouble shoot a problem until they are certain that there's a problem. Going 0-10 hardly constitutes a problem. A problem usually is when they are 0-10 and without a plan of success in the first place caused by a lack of preparation, poor practice, lack of discipline, etc.
When scouts identify hitters that have swagger, keen awareness, ability to quickly reset, disciplined, have short-term memory and are patient, they draft them and pay them a lot of money.
The key is having D.N.A.:
Development Needs Aptitude
Development Needs Athleticism
Development Needs Attitude
Development Needs Access
Development Needs Adversity
Remember: Good hitters don't work hard; they work smart.
For more information, visit www.diamonddirectors.com today. Also, please check out our eMagazine.
BIO
C.J. Stewart has built a reputation as one of the leading professional hitting instructors in the country. He is a former professional baseball player in the Chicago Cubs organization and has also served as an area scout for the Cincinnati Reds. As founder and CEO of Diamond Directors Player Development, CJ has more than 12 years of player development experience and has built an impressive list of clients, including some of the top young prospects in baseball today. If your desire is to change your game for the better, C.J Stewart has a proven system of development and track record of success that can work for you.