Set goals. Play ball. Fall baseball is here – and the buzzword is development. True development only occurs when you get an assessment of where you are and where you need to be.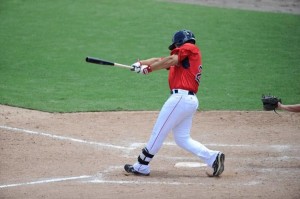 Heading into the fall, coaches should be making swing assessments of their players' swings. Next, you set your goals and hit the field.
While you will play in games, it's important to remember that in order to develop and reach your full potential, you must practice to prepare for games. This is how you discover what you must work on in the next practice. This is what fall baseball development is all about. It will put you into the right mindset to reach your full potential.
For Major League hitters to expect to get a hit 30 percent of the time, their goal is to get into a good loaded position, on time to track the pitch 90 percent of the time. In your first 10 at bats this fall, your sole focus should be to get into a good position, on time, nine times. This should be simple. It only becomes complicated when you put pressure on yourself.
If your load is good, focus on your approach to hit the ball where it is pitched seven out of your next 10 at bats. Repeatable approaches in games lead to hits. When you fail to repeat the approach, think about the adjustment you can make. Adjustments simply are doing something different, which will lead your desired outcome.
If your game approach is good, focus on hitting the ball hard five out of 10 at bats, regardless of the outcome. Remain discipline by not trying to swing too hard. Bad efforts will lead to repeated failure and frustration.
If you're hitting the ball hard 50 percent of the time, you'll have no problem getting a hit 30 percent of the time. Hits happen as a result of good swings supported by good timing, tempo (effort) and selecting good pitches.
Fall games have started. It's time to play ball physically and mentally.
Remember: Good hitters don't work hard; they work smart.
For more information, visit www.diamonddirectors.com today.
BIO:
C.J. Stewart has built a reputation as one of the leading professional hitting instructors in the country. He is a former professional baseball player in the Chicago Cubs organization and has also served as an area scout for the Cincinnati Reds. As founder and CEO of Diamond Directors Player Development, CJ has more than 12 years of player development experience and has built an impressive list of clients, including some of the top young prospects in baseball today. If your desire is to change your game for the better, C.J Stewart has a proven system of development and track record of success that can work for you.