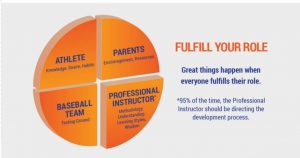 We have talked about the similarities in the past. Before the word coach was used in the context of sports, it was reserved strictly for transportation. There was a horse, a coachman and a coach. The coachman controlled the horse, and the coach was where the passengers rested and waited. A coach transported you to where you were supposed to be.
In today's sports landscape, coaches fail to get their players to their destination because of a fear of accountability, among other factors.
I love my two daughters. They both play tennis and aspire to become professionals in the sport. While I know them better than their tennis coaches, I don't know much about the tennis development process. Therefore, I allow the professionals to do the coaching, while I do the paying and supporting.
Before parents can find a good coach to entrust the development of their child, they must believe that their own way won't work. That involves believing, seeking and trusting.
Believe

— 

I convince players and parents to believe in me as a coach when I deliver on promises and guarantees that I make.

Seek

— 

Consider how your instructor has designed his services and programming. The instructor should be able to get started with your child where he needs to start and always have a program that can be personalized to what your child needs at any given time.

Trust

— 

It takes time to develop trust in a coach. For me, that trust is developed quicker when I hear, "I promise," and I see the results.
Now more than ever, I'm focused on solidifying myself as a Swing Assessment Expert, because nothing, and I mean nothing, can be developed without first being assessed.
Sign up for my three (3) FREE video lessons to learn more.
Remember: Intelligence tops being smart.
For more information, visit www.diamonddirectors.com today. Also, check out our Digital Magazine.
---
C.J. Stewart has built a reputation as one of the leading professional hitting instructors in the country. He is a former professional baseball player in the Chicago Cubs organization and has also served as an area scout for the Cincinnati Reds. As founder and CEO of Diamond Directors Player Development, C.J. has more than 12 years of player development experience and has built an impressive list of clients, including some of the top young prospects in baseball today. If your desire is to change your game for the better, C.J. Stewart has a proven system of development and track record of success that can work for you.