"The cream rises to the top."
That old saying is true. The two teams playing on the World Series stage this year are the best of the rest. The season started with 30 teams, but now only the St. Louis Cardinals and Boston Red Sox remain.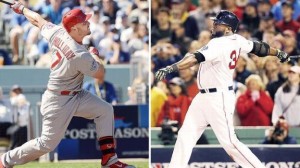 The World Series brings out the best in every player on the field. I don't think any athlete plays with that type of mental and physical intensity during the regular season.
Beyond being a baseball fan, I want to be inspired as a person. Life is tough. There are good days and bad. Watching the World Series inspires me. Here are five things to look for in this year's World Series that may inspire you:
1. Has he gotten a hit?
Hitters will go hitless during the World Series and their characters will be exposed. There is no way every hitter will get a hit. The pitching is just too good for that to happen. Somebody is going to end up hitless. The way he responds to that situation will have an influence on other players. When all else fails, be calm. Calm is contagious. You may go hitless, but isn't it best to empower your teammate to set a World Series record for consecutive hits.
2. Situations will induce fear in hitters
The field dimensions are the same in the World Series as they are during the regular season. It's just that the stakes are higher. That means that F.E.A.R. (false evidence appearing real) is real. Fear causes some players to rise and other to fall. At some point, the bases will be loaded and a player will need to produce. In that situation, any number of things can go right and wrong. At the end of the game, whatever happens will happen. See which players rise to the challenge. My bet is on the ones who are the most physically and mentally prepared.
3. Pulling the right strings
Managers will make bad decisions – period. Some of those decisions may impact a play, a game or the Series. But remember – managers are not genies. If they were, what fun would that be? The manager must have done something right to get this far, but he is not perfect. There will be a mistake or two made. But watch how – or if – he learns from his mistake. The final outcome may depend on that moment.
4. Who will rise/fall?
There is no question about it – You must be mentally and physically prepared to play in a series of this magnitude. Some will and some won't. So, who will give up? No Major League player is ever going to admit he gave up in any given situation, but his body language might give away a hint or two. Each player will have his character challenged trying to find if he is prepared for this moment. In this moments where he is not, he may give in. It's about having good teammates, managers and fans to help find that extra something.
5. Playing as a team matters
Teams win World Series, not individual players. A key at bat. A key pitching performance. A critical coaching strategy. These are all part of the game. Each contributes to the final outcome. Competition means that someone wins and someone loses. Losing can cause division quickly if there isn't a culture of humility in place. You must master all of the things you can control in order to experience success in the things you cannot control.
Remember: Good hitters don't work hard; they work smart.
For more information, visit www.diamonddirectors.com today.
BIO:
C.J. Stewart has built a reputation as one of the leading professional hitting instructors in the country. He is a former professional baseball player in the Chicago Cubs organization and has also served as an area scout for the Cincinnati Reds. As founder and CEO of Diamond Directors Player Development, CJ has more than 12 years of player development experience and has built an impressive list of clients, including some of the top young prospects in baseball today. If your desire is to change your game for the better, C.J Stewart has a proven system of development and track record of success that can work for you.