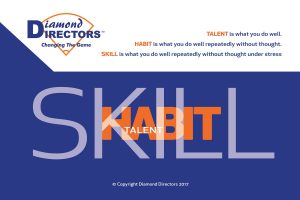 Starting today, there are three things that I want you to do to make November a month to remember:
Get assessed
Develop awareness
Learn how to adjust
November through January is all about habit and strength building time for my hitters. A habit is broken down into three parts: a cue, a routine and a reward. Obviously, the reward that hitters seek is getting a base hit, and coaches work tirelessly to help their hitters build a swing that is consistent and routine.
A cue is the thing that challenges the routine and prevents the reward. Fastballs, changeups and curves are different pitch types and speeds. They are cues.
In my younger days as a coach, I spent the majority of time teaching my hitters how to hit fastballs. Because of that, my hitters struggled to hit other pitches. I was failing them as a coach.
It takes 3,000 reps to build a habit. That's 3,000 reps to develop the habit of adjusting to hitting fastballs and off-speed pitches. Adjusting does not just happen because you want it to.
Get assessed
There are seven parts of the swing and it takes 3,000 reps to build a habit. That's 21,000 reps. Do not spend the entire month failing to build the right habit.
Develop awareness
Awareness is knowing when you are doing something wrong so that you can make the adjustments. Doing drills is all about the feel. You want to fall in love with doing drills so that you can build healthy hitting habits.
Learn how to adjust
Making an adjustment does not mean to do it right. It means that you are doing something different that will lead to you doing it right.
Getting assessed by a professional coach, developing awareness and learning how to adjust will make November a month to remember when you are crushing baseballs in the upcoming spring and summer season.
Diamond Directors has been providing the blueprint of success for diamond sports athletes since 1998. Let us assess your swing in our next Hitting Combine.
Remember: Intelligence tops being smart.
For more information, visit www.diamonddirectors.com today. Also, check out our Digital Magazine.
---
C.J. Stewart has built a reputation as one of the leading professional hitting instructors in the country. He is a former professional baseball player in the Chicago Cubs organization and has also served as an area scout for the Cincinnati Reds. As founder and CEO of Diamond Directors Player Development, C.J. has more than 12 years of player development experience and has built an impressive list of clients, including some of the top young prospects in baseball today. If your desire is to change your game for the better, C.J. Stewart has a proven system of development and track record of success that can work for you.