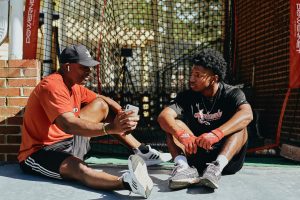 COVID-19 is a disease that has impacted each and every one of us. The disease has caused the world to pause. What have you discovered about yourself during this time of pause? I have discovered that I love serving others. It truly brings me joy. I realize that you cannot give what you do not have.
Significance is all about using your success to serve others. God has truly blessed me. That is why I am committed to being the best version of myself every day so that I can bring joy to others.
Here are 19 things you must do in order to become and maintain greatness on and off the field:
Be able to practice with purpose.
Be able to practice alone.
Ask for help.
Have good awareness.
Have a good attitude.
Be able to make quick adjustments.
Have strong advocates.
Have access to a good coach who has a proven coaching methodology.
Be willing to use your success to serve others.
Be able to think critically.
Have grit (the relentless pursuit of purpose).
Be patient (the ability to wait without anger).
Be passionate (the Latin word for passion is suffering).
Be able to receive constructive criticism.
Be humble (the ability to think of others more than yourself without thinking less than of yourself).
Be confident due to your prior success rather than your hopes and dreams.
Be virtuous (showing high standards).
Be committed (making and keeping promises to yourself for yourself).
Be disciplined (the ability to get things done even when you don't want to do it).
To help keep your skills sharp, we have introduced a new type of Skill Build—our Virtual Skill Build, where I can help you develop hitting skills anytime, anywhere using anything. Check it out.
Remember: Intelligence tops being smart.
For more information, visit www.diamonddirectors.com today. Also, check out our Digital Magazine.
---
C.J. Stewart has built a reputation as one of the leading professional hitting instructors in the country. He is a former professional baseball player in the Chicago Cubs organization and has also served as an area scout for the Cincinnati Reds. As founder and CEO of Diamond Directors Player Development, C.J. has more than 12 years of player development experience and has built an impressive list of clients, including some of the top young prospects in baseball today. If your desire is to change your game for the better, C.J. Stewart has a proven system of development and track record of success that can work for you.